The International Conference Management Science and Engineering Management (ICMSEM) took place on July 31 and August 1, 2020, with the traditional goal of fostering international cooperation.
The event was organized by the International Society for the Management of Science and Engineering, Sichuan University, China and the Academy of Economic Studies of Moldova and brought together over 100 participants from 18 countries, who presented their achievements.
Due to the coronavirus pandemic, the conference was, for the first time, organized on an online platform, after 13 editions that took place in various research centers around the world such as: Melbourne, Kanazawa, Chengdu, Baku, Karlsruhe, Ontario, Philadelphia, etc.
The current edition of ICMSEM focused on topics such as: science management in context of global adversities, building a knowledge-based society and economy, innovative engineering management, solutions for economic recovery and strengthening health systems in context of the coronavirus pandemic. At the same time, the event hosted a special session dedicated to the art of publishing, which was organized jointly with the international publishing house Springer.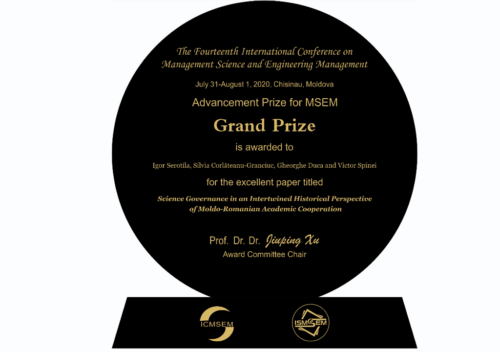 In a competition of over 600 papers, the study on the development of the two Romanian academies (the Romanian Academy and the Academy of Sciences of Moldova) was appreciated with the highest award of the conference.
The Grand Prize was given to the group of authors Igor Serotila, Silvia Corlăteanu, Gheorghe Duca, former president of the Academy of Sciences of Moldova and Victor Spinei, vice president of the Romanian Academy, for valuable contributions in exploring science management from a historical perspective of academic cooperation. The study emphasizes the important role that scientific academies play in advancement of science and development of society.
In a novel approach, the authors highlight the ascending dynamic of development of the two academies, including in bilateral relations, and analyze the historical context of their creation, challenges they face as well as perspectives on development.
The papers presented at the conference are published by Springer ( https://link.springer.com/book/10.1007/978-3-030-49829-0 ) and cover a wide range of topics, including novel and most recent advances in science and engineering management.
The next edition of the Conference will take place at the University of Costilla – La Mancha, Spain.